« Ford to be the Featured Automaker of the 2009 SEMA Show CarDomain Blog Home The Panamera Push »
June 22, 2009
Oil Changes: Do It Yourself or Pay A Shop?
I took the Auto Mechanics class at my private nerd high school (the same as Bill Gates, Paul Allen, the McCaw brothers, and Adam "Batman" West). Unlike real auto shop courses, the one I took was more directed towards simple explanations of automotive mechanical technology and how to know when your mechanic was ripping you off.
One of the first (and only) hands-on tasks we learned was how to change oil. My friend pulled my 1977 Chrysler Le Baron sedan over the pit (nearly dumping it in) and we went to work draining the sump and changing the filter. After the work was completed on my car and one other guinea pig, I distinctly remember the instructor (whose primary gig was teaching math) saying "now that you know how to do it, you now should know that it's a far better deal to just take your car to a Jiffy Lube and pay $15."
Continue reading after the jump!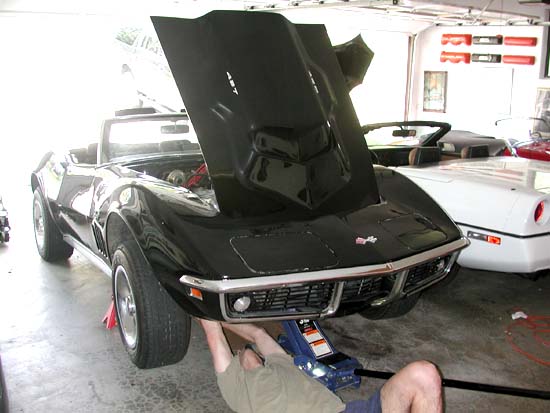 Oil changes are the hardest DYI vs. have-someone-else-do-it decision I ever face. If I had a lift in my garage, it would be a no brainer. Unfortunately, it always involves ramps or jacks, tight spaces and oil on my usually clean garage floor. My wife will also confirm that I usually forget to put on my coveralls, which explains the permanent stains on otherwise nice looking clothes.
It should be easy: one bolt to drain and replace, spin off one filter then put on the other filter, and finally fill with fresh oil. Somehow it's never simple.
For instance my 2002 Corvette, which has only five-inches of ground clearance, has to be jacked way up at the nose and tail, because the drain plug faces forward. It's easy to access the Triumph TR3's drain plug, but the fact that it is square means there's a high likelihood that the wrench will slip, resulting in blood dripping right along with the 20-40wt.
As far as dripping, have you ever tried to do the oil and filter on a Ford Expedition without coating the frame rails in dino essence? And most people can't get at a Miata oil filter at all. I think I'm the only living human who, provided the Miata is on a lift, has arms long and flexible enough to remove and refit the filter. On the floor it is downright impossible.
Then there are canister filters, which should have been outlawed based on the mess they have been making since the dawn of automobile time. I changed the oil in my Toyota Avalon daily driver myself for the first time last month and realized the filter cover was secured so tightly, it couldn't be removed by a standard plastic cap wrench. Its size and configuration requires the purchase of a stronger metal tool and exerting more force than can be reasonably (and safely) applied while under a vehicle on jack stands. And by the way, how is it that a canister filter element alone costs more at a parts store than any spin-on filter with a metal case and no-slip surface?
Over the years, I've come to know that it's a big mistake to take a car to a quick-lube place. I had one place in Houston many years ago start my car with no oil in it. I've had friends lose their drain plugs (and oil) while driving after a kid forgot to torque correctly. And if I had a dollar for every over-torqued drain plug I've seen from a lube place, I'd be running Royal Purple in everything I own. My favorite reoccurring lube story is the numskull who inevitably removes the Ferrari's "cambio" drain plug (rather than the one marked "oilio") and leaves the car with twenty quarts of oil in the engine and none in the transmission.
Still, with the inevitable frustration and/or mess that comes with the majority of my home oil changes, I've come to a point where paying $30 to my very competent friends down at the shop to deal with obtaining the supplies and clean up the mess now seems like money well spent.