August 22, 2009
The cloud of controversy continues to float over drifting like so much Schleprockitude (judges, can I get a ruling on this word?). This weekend at the latest Formula Drift event at Sonoma, the drama continued.
This season we've seen D1 take its lumps over the behavior of a certain team (rhymes with orange) and FD has been dealing with the legality of certain cars in a sport already stacked with such an eclectic mix of hardware. And yet, through it all, one man and his online outlet have raked through the muck to tackle these tough issues. And that man is Wrecked Magazine's Joey Redmond. Joey does not provide any dramatic montage vid clips, nor artsy imagery and flowery prose, not even harsh critiques of stance and wheel offset. No, this guy delivers the goods and is quickly becoming the Walter Freakin' Cronkite of the drift world, only with more breathing and less grammar (hey, Joey, spel chek, yo!).
Wrecked is the only outlet to break the news on the ruling on yesterday's top 32 battle between current points leader Chris Forsberg and Calvin Wan. Click here, here or here for more on this matter.
As a fan of drifting and Formula Drift I hope this can get worked out. As a wannabe I'm a huge proponent of the skill and stones these pro drifters have to fling a car sideways at near triple-digit speeds inches away from another car doing the same thing. I'm also a huge fan of the great show put on by Formula Drift. Which begs the eternal question, is drifting a motorsport or a show? The top 16 are running today, check out StreetFire.net for video from the weekend and the Wrecked Magazine blog for more hard-hitting reports.
August 6, 2009
In celebration of our beloved "Hachiroku Day" today (8/6/2009), I thought I'd post up some photos from my archive of AE86 photos. I have sooooooo many AE86 photos in my hard drives and photo albums it's ridiculous. So many in fact, that I could start an AE86 only blog site if I felt like it! But no time for that right now, as right now we're concentrating on building Motor Mavens and telling the whole world about our site!
I wasn't sure if I should categorize this as "Point&Shoot" or "Archaeology" since these pics seem to fit into both categories. I just decided on "Point&Shoot" since these pics are more that style anyway… they aren't artistic or photographically dope, but it doesn't matter. The subject matter is off the hook!
These pics are three years old – they were taken back in spring of 2006, to be exact. I was in Japan for a "work/vacation," just hanging out with Team Orange, and I decided to roll up to D1 Sugo with them. When we arrived, the lower division D1 qualifying had just ended, and I was so happy to see all these dope AE86s around! I must have looked ridiculous as hell, taking a million photos of these AE86s on their loader trucks… the owners of the cars laughed at me, probably thinking "damn, this guy is going bananas taking all these photos! Continue reading and view more photos on MotorMavens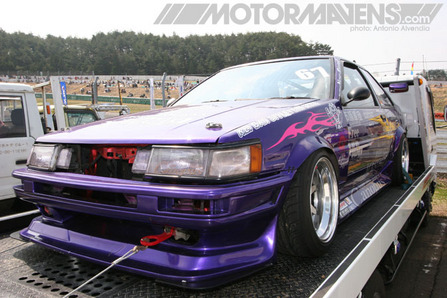 Damn, I love red AE86s. Especially red AE86 Truenos. To further celebrate Hachiroku Day today, I just wanted to point out that this (above) is one of my favorite AE86 photos I've ever taken in my whole life. It's not like it was particularly challenging or technical or anything, but it's just that this photo brings me back to a really great time in my life.
Standing trackside at Ebisu Circuit's South Course (the D1 course) that day, I felt completely happy. I know it may sound pretty weird; this isn't normally the type of thing one writes about on an automotive blog site. Nevertheless, my experiences that day were so incredible… I don't think I'll ever forget the sights and sounds of Ebisu Minami that day… with these two gorgeous red AE86s chasing each other down the track, bumper to bumper… initiating drift close to the intimidating South Course wall, and chasing each other door to door throughout the entire course. It was a hell of a show, but here's the thing. There were no spectators there that day, except for me.
It was as if for some reason, two of my favorite cars in the world (and in my favorite color too!) were chasing each other down at my favorite race track in the world, dogfighting just for my own viewing pleasure. It was amazing to say the least; my words here don't do the experience justice. It was exhilarating and exciting, yet relaxing at the same time. It was as if my whole world was at peace, for just that one moment. I f*cking love red AE86s and I f*cking love Ebisu Circuit!!! Continue reading and view more pictures on MotorMavens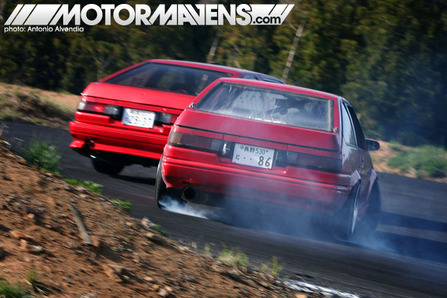 May 8, 2009
So there aren't any examples of gratuitous law-breaking, crashes, or police in this clip, but I can assure you it's Gumball related. When the rally was passing through Anaheim, the contenders stopped by the D1GP and did a slow parade for the fans. Fortunately, StreetFire was there to get it on tape. While there's obviously a grip of exotics—including an XJ220!—one car that's conspicuously absent is Richard Rawlings' Escalade-powered, breakdown-prone '78 Chevy Caprice. It's apparently giving him a hell of a time, just like it did on Bullrun last year.
May 6, 2009
Last weekend's D1 Grand Prix was a clash between up-and-coming American drivers and the more established Japanese drivers. In the end, Daigo Saito emerged victorious in his Toyota Chaser. Check out the amazing pics that Larry Chen took for us!
May 2, 2009
Our buddies at StreetFire shot a bunch of video during yesterday's qualifying and practice. Check out this in car footage with Ross Petty in hi def!